Scotts Valley and Santa Cruz, CA
Ever hear the old sports cliché that "the best defense is a good offense?" Well, a similar credo applies when it comes to maintaining good oral health. Scotts Valley family dentists at Ebrahimian Integrative Dentistry believe that prevention is your best defense against potential threats to your oral health. As a result, we offer a wide variety of preventive care services, designed to identify oral health problems as early as possible or, ideally, stop them before they even develop into bigger problems.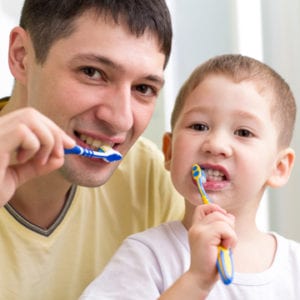 The benefits of preventive care
At Ebrahimian Integrative Dentistry, we believe the long-term benefits of preventive care outweigh the up-front financial cost. For one thing, early detection and early treatment of any problem with your health can save you from needing a more intensive, more expensive procedure in the future.
Preventive care in dentistry can protect your oral health but also serves as a safeguard for your overall health. Certain oral health problems can elevate your risk factor for chronic, systemic ailments. For example, patients with an advanced, untreated case of gum disease may face as high as double the risk of cardiac disease as bacteria from the mouth filter into the bloodstream and accumulate in the arteries of the heart. Losing teeth as a consequence of decay or gum disease can lead to malnutrition, not to mention embarrassment from dealing with tooth loss.
Regular visits to your Scotts Valley dentists are important
If you only go to your dentist when you experience a problem, such as tooth pain, you are compromising your oral health. In many instances, by the time an oral health problem starts to present noticeable symptoms, it already has progressed to a serious stage that results in irreversible damage. The best way to maintain a good level of oral health is to visit your family dentist once every six months for a check-up. This appointment will involve a professional dental cleaning of your teeth, a procedure that is known as a prophylaxis, or a prophy, which totally removes all tartar and plaque from your teeth, both above and below the gum line. This complete removal only can be accomplished by an experienced dental hygienist using professional teeth cleaning equipment. Receiving a dental cleaning often improves the aesthetics of your smile, because stains on your teeth are removed during the procedure, while also improving bad breath. At this appointment, your dentist also will examine your teeth and mouth, identifying any potential oral health issues that need to be addressed. Keeping a regular schedule of check-ups also allows your dentist to maintain a consistent record of your oral health, making it easier to identify changes as they occur.
These visits should occur once every six months, unless otherwise directed by the dentist, for patients of all ages.
Preventive Care Treatments in Scotts Valley
At Ebrahimian Integrative Dentistry, we offer a variety of treatments focused on preventing various dental health issues.
Below, you will find the list of services that we offer to both children and adults:
Fluoride: A standard treatment for decades in dentistry, fluoride is a mineral that has been proven safe and effective to protect teeth against cavities and tooth decay. Receiving fluoride treatments hardens and re-mineralizes the small imperfections that everyone develops naturally on tooth surfaces. We recommend fluoride treatments for children or patients who may have difficulty accessing regular dental care or have a non-fluoridated water supply where they live. We can administer a fluoride treatment during an appointment, or send patients home with professional-grade concentrations of fluoride portioned out in fluoride trays.
Sealants: Also recommended for children as an additional layer of defense against tooth decay, sealants are non-toxic, plastic compounds that are applied to the tooth crevices on the chewing surfaces of the back teeth. Sealants can be especially effective for back teeth such as molars and bicuspids, which are often troublesome areas for children to keep clean and well-brushed on their own. Sealants only should be applied to permanent teeth. You can be assured that our sealant material is safe, non-toxic, and BPA-free.
MI Paste: A safe, non-toxic, topical crème, MI Paste is applied directly to teeth using your finger or a special cotton-tipped applicator. Its active ingredient, a milk protein called Recaldent, releases calcium and phosphate ions that strengthen your tooth enamel and fortify your teeth against decay.
X-rays: These images can help identify problems with your teeth or jaw bone that cannot be seen by visually examining your mouth. We use digital X-ray technology, which produces more precise images that expose patients to a small fraction of the radiation emitted by traditional X-ray machines.
General Dentist in Scotts Valley
Remember that no preventive care procedure is intended to be a substitute for a thorough regimen of oral hygiene that includes brushing and flossing daily, in combination with regular visits to your dentist. To learn more about our program of preventive care, contact our office by calling (831) 438-4411 to schedule a consultation. A member of our staff will be happy to assist you.
Ebrahimian Integrative Dentistry is proud to provide top-quality oral health care for patients living in the areas of Los Gatos, Santa Cruz, and Scotts Valley.