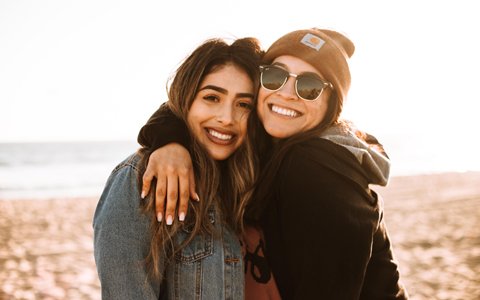 At Ebrahimian Integrative Dentistry, we offer a variety of treatment options in cosmetic dentistry. Whether you want to whiten your smile and fix a couple of problem teeth or need to completely revamp your smile to replace missing teeth, repair tooth decay, and more, our Scotts Valley cosmetic dentists can help.
Depending on the goals of each patient, various treatments may be required to achieve the perfect smile. In these instances, Dr. Max or Dr. Ariana at Ebrahimian Integrative Dentistry offers what is often referred to in the dental profession as a "Smile Design." This can be recommended to correct numerous dental problems that you may have as well as addressing bite alignment issues.
For example, we can repair what is referred to as a collapsed bite, when the upper front teeth severely overlap the bottom teeth. This can lead to premature wear of the lower teeth. Treatment directed at this type of bite issue can even help with TMD (temporomandibular joint disorder).
A Smile Design
In short, a Smile Design is a customized cosmetic dental treatment plan that is tailored to suit the needs and desires of each patient.
Years of neglect or an improper bite can lead to damaged teeth, missing teeth, or completely worn teeth, which lead to a collapsed bite. A Smile Design means that Drs. Ebrahimian can restore all of your teeth with a combination of cosmetic dental treatments so that you can feel confident again!
The treatments selected for your case will depend on your aesthetic and functional needs. Your treatments will produce a beautiful smile with straight teeth that fit together properly. The result is a beautiful smile as well as a boost in self-confidence.
Your unique treatment plan can also help reduce tooth, mouth, and jaw pain that resulted in an uneven bite. Ours is one of the only dental offices in the area to use the science and technology of neuromuscular dentistry to ensure you have an optimal, functional bite and straight teeth as well as a beautiful smile.
Your Smile Design plan could include:
The procedures used in a Smile Design are determined by evaluating the aesthetic goals of each patient while also taking into account any existing dental problems. Based on this information, we develop a plan to help you achieve your goals for your smile and your oral health.
Your Personalized Treatment Plan
We begin the Smile Design process by developing a personalized treatment plan that outlines the procedures you need in order to achieve the smile that you desire. The process begins with the "end-in-mind," often creating a 3-dimensional model of the end result before any treatment begins.
This personalized approach allows the patient an opportunity to discuss their preferences and to choose various elements of the Smile Design such as color, shape, shade, and any unique characteristics that can be built into the plan before any teeth are touched to assure them of the results they have dreamed of.
The treatment plan looks at both your short and long-term goals for a healthy, confident smile.
As with any treatment, a Smile Design plan outlines the cost of the procedure with your budget in mind as well as payment options so that you can fully prepare for the investment in your new, healthy, radiant smile.
A Smile Design does more than bring a new brilliant shine to your smile. It can also help correct a variety of dental issues, including:
Broken/chipped teeth.
Crooked or crowded teeth.
Misshapen teeth.
Discoloration.
Gaps between teeth.
Replace missing teeth.
Correct or restore an uneven bite.
We want to ensure that your oral health is in an optimal state to maximize the effectiveness of your treatment plan.
Prior to any extensive dental care, a thorough exam and dental cleaning are needed to ensure the health of your teeth and gums for a good foundation. This thorough checkup may require updated digital dental x-rays or any other diagnostic procedure that is necessary, so the dentist can best determine which procedures are right for you and to rule out any other dental concerns that may impact the desired results.
Your Smile Design is a personalized process, and treatment can only be determined after your exam and consultation. Below we describe some common procedures that could be included in a Smile Design plan.

Veneers
At Ebrahimian Integrative Dentistry, we are proud to offer veneers as part of our cosmetic dental treatments.
Veneers have been around for a while, but the newest materials used today make them a popular choice among patients, providing them with outstanding, beautiful results. If you have a single tooth you want to improve or want all of your front teeth to look better, then veneers may be the right option for you.
Various aesthetic flaws can be corrected with veneers. Using veneers, the father-daughter team of Drs. Max and Ariana Ebrahimian can correct a variety of cosmetic dental issues, including:
Discolored teeth.
Crooked or uneven teeth.
Gaps between teeth.
Lengthening teeth that appear too short.
Veneers can be a great solution to improving your smile without having to wait for the results that can be achieved with orthodontics or other treatments, depending on each individual case.
What Are Veneers?
Veneers are essentially a thin shell that fits over the front portion of your teeth, eliminating any imperfections. Veneers are bonded directly to the front surface of your teeth and are permanent.
Beautiful results begin with quality materials. At Ebrahimian Integrative Dentistry, we use top of the line materials to provide our patients with outstanding results that look and feel natural. There are two types of veneers that we use, porcelain and composite. During your consultation with the dentist, we can determine which type of veneer is right for you.
Porcelain veneers are not easily stained by such things as coffee, tea, or red wine. These restorations are lab-fabricated and custom-made. They can provide the longest lasting results, and with the latest techniques and materials, they can look more natural.
Porcelain veneers typically take two appointments scheduled a few days to a few weeks apart to achieve the final results.
Composite veneers, also known as cosmetic bonding, are handcrafted in our office. Only an expertly-trained cosmetic dentist can craft composite veneers to look natural and blend in with your smile.
While composite veneers achieve similar results as a porcelain veneer, they can be completed in a single dental visit — ideal for those needing instant results for an immediate smile improvement.
Deciding which type of veneers to choose is up to you and the recommendation of your cosmetic dentist. We can discuss the differences in detail, assess your oral health, and consider your smile goals when recommending the best option for your case. Either way, you can achieve a confident smile with your very own veneers!
Why Choose Veneers?
Veneers are ideal for patients that desire a beautiful smile that is also permanent. Plus, veneers can be an all-inclusive solution because we can correct more than one tooth at a time fixing multiple issues at once. For instance, if a tooth is crooked, appears too short, and is discolored, a single veneer could fix all these problems.
You can enjoy a brand new smile in just a few visits with veneers!

Teeth Whitening
Teeth staining happens to everyone because of the foods we eat and drink and the certain lifestyle choices we enjoy, but thankfully, now more than ever, you have options to achieve a brighter, whiter smile!
Teeth whitening can be a basic form of cosmetic dentistry that helps restore stained teeth to a brighter, whiter look. You may be tempted to purchase whitening products at the store, but these products won't produce dramatic results like our professional strength whitening treatment.
Why Are My Teeth Discolored?
Teeth become stained or darker in color by a variety of reasons including:
Smoking.
Chewing tobacco.
Beverages such as coffee, tea, and wine.
Medications.
Age.
Fluorosis.
Although over-the-counter whitening treatments are widely available, they simply do not provide patients with the most effective and immediate results. Store-bought whitening treatments are a weaker whitening solution that typically provide short-term results, if any at all. Our professional whitening treatments can provide you with the results you desire that last longer.
At Ebrahimian Integrative Dentistry, we offer in-office and at-home whitening treatments. During your evaluation, we will determine which method of whitening is best for you.
Zoom! Whitening
If you are looking for a "Hollywood Smile," then Zoom! Professional Whitening System is for you.
Our in-office whitening treatment using the Zoom! System takes about an hour, which means that you can receive dramatic teeth whitening results during your lunch break. You will leave our office with an exceptionally white smile.
Plus, we can fabricate custom trays for you to take home and use to whiten your teeth for touch-ups to provide you with continued results.
Sinsational Smile
If you are looking to really amp up your teeth whitening results, Sinsational Smile may be right for you.
This whitening system has been rated as the best in-office teeth whitening system in the country for five years in a row. Using pre-filled silicone trays, this professional whitening agent is activated by an LED accelerating light. The in-office procedure only takes about 20 minutes to achieve results and is proven to whiten teeth 2-5 shades whiter.
To help you maintain a bright white smile, we will provide you with a touchup whitening pen for at-home use.
Why Get My Teeth Whitened?
Getting whiter teeth can help restore your confidence and give you a smile that makes you feel proud.
Your smile is the first thing that others notice about you, so what kind of impression are you making? People with whiter smiles can be seen as more professional and more attractive, which could really help if you are applying for a promotion, are in the dating scene, or just want to feel better about your smile.
Get a brighter smile near Los Gatos, Santa Cruz, and Scotts Valley, California when you call Ebrahimian Integrative Dentistry today!

Gum Recontouring
Do you have a "gummy" smile? This occurs when your gums either reveal too much of your teeth, causing them to look too long, or cover a significant portion of your teeth, causing teeth to appear too short.
A gummy smile also can make it difficult to keep your teeth and gums clean, affecting your overall oral health. This also can leave a person feeling unhappy about his or her smile.
Whether your gums rest too low or too high or are uneven, a laser treatment to recontour your gums can be the easiest solution to a beautiful smile. Laser gum recontouring is one of the advanced cosmetic procedures offered at Ebrahimian Integrative Dentistry.
What Causes a Gummy Smile?
A gummy smile can be caused by an abnormal eruption of teeth, hyperactive upper lip muscles, or improper growth of the jaw. A gummy smile can have more than just cosmetic consequences; they can make it difficult to keep your teeth clean, which increase the risk of tooth decay, gum disease, and eventual tooth loss.
Laser Versus the Traditional Method of Gum Surgery
In previous years, the only way to correct a gummy smile was by reducing the prominence of the gums through a surgical procedure.
Traditional gum surgery is typically done in sections at a time, which can take months to heal This prolongs the outcome and delays a patient's desired results.
Laser gum recontouring also offers these benefits:
Less pain.
A faster procedure.
Minimal to no bleeding.
A shorter recovery time.
Treating multiple teeth in one appointment.
Laser gum recontouring provides amazing results in less time and with less discomfort! The laser cauterizes the tissue during the procedure leading to little or no bleeding at all, along with minimal to no risk of infection.
Trained cosmetic dentists in Scotts Valley, such as Drs. Ebrahimian, can recontour your gums using a specially designed dental laser to produce a more confident and healthier smile.
Post-Op Care with Laser Surgery
You may encounter gum tenderness for up to a week following a laser gum recontouring procedure, but you can continue to eat and drink as you normally would. We also suggest using an oral rinse to keep the area clean.
Any post-procedure pain is typically minimal and can usually be managed by taking an over-the-counter anti-inflammatory, such as ibuprofen.
Because there is minimal downtime expected with laser gum recontouring, you can be back to your usual routine in no time. The benefits of laser surgery are simply amazing!

Inlays/Onlays
An inlay or onlay procedure involves conservative dental restorations using either composite material or porcelain to repair a tooth that has decay. Sometimes, there is too much decay in the tooth for a filling, and a full dental crown would not be the right choice either.
Inlays and onlays are excellent choices for restoring teeth to their natural function and aesthetics. An inlay involves repairing only the chewing surface of a tooth. An onlay involves repairing the cusps (bumps) of a tooth. Both procedures are entirely natural-looking because the material used is tooth-colored.
Benefits of an Inlay or Onlay
Inlays and onlays are a conservative, metal-free option to repair a tooth. Ebrahimian Integrative Dentistry uses porcelain or a composite material of exceptional quality to provide you with beautiful, long-lasting results. The results of the procedure will blend in nicely with the rest of your teeth.
Inlays and onlays can:
Strengthen existing tooth structure.
Be a durable and long-lasting restoration.
Prevent costly treatments down the road.
Maintain and help restore the structural integrity of a tooth.
Help preserve natural tooth structure.
Use tooth-colored materials for beautiful results.
These benefits make inlays and onlays an excellent restoration option for many patients.
The Procedure
During the procedure for a porcelain inlay/onlay, the dentist will remove the unhealthy portion of your tooth and then take a digital impression that will be used to make an inlay or onlay to fit your tooth precisely.
We offer inlays and onlays in either porcelain or composite materials.The dentist will determine which material is best for your treatment, depending on the condition of your existing tooth structure. Both materials will result in a completely natural look and improved function of your tooth.
A porcelain inlay or onlay can be made in one visit to our office using our Cerec CAD/CAM technology.
A composite inlay/onlay can also be fabricated right in our office and completed in only one visit. Both of these options are very helpful for patients experiencing a dental emergency.
After the Procedure
Once the process for your inlay or onlay is complete, caring for your teeth is easy. Continue practicing healthy oral hygiene habits of brushing and flossing daily.
Visit the dentist routinely for your checkups and cleanings. This way, we can continue to assess your dental health for signs of damage, decay, or any other oral health concerns that may arise that could compromise the longevity of your restoration.
Is an Inlay or Onlay Right for Me?
An inlay or onlay could be the right option for you if your tooth has sustained moderate damage or decay. Also, sometimes when old metal fillings are removed, there isn't enough healthy tooth structure left to sustain a composite filling. In these cases, an inlay or onlay may be the right choice.
Ideally, damaged teeth should be repaired as soon as a problem arises to protect the integrity of the tooth's natural structure. Ignoring any dental concern will only escalate the issue, causing further damage and possible infection, at which point the tooth may require extensive restorations that could be more costly and time-consuming. Repairing damaged teeth can protect your oral health for years to come!

Design a New Smile!
To schedule a consultation for your own Smile Design, contact Ebrahimian Integrative Dentistry today at (831) 438-4411. We welcome patients of Los Gatos, Santa Cruz, and Scotts Valley, California!