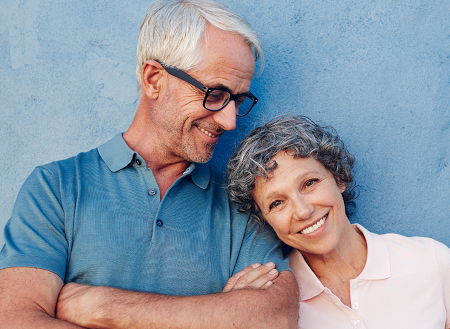 Are you missing some or all of your teeth? Ebrahimian Integrative Dentistry can replace them with dentures that will improve your appearance by restoring your smile. These dentures will benefit your overall health as well as your self-confidence.
We offer many types of dentures: full or partial, permanent or removable, and implant-supported dentures.
Custom-Made Dentures
Full or partial custom dentures, either permanent or removable, are made with high-quality, natural-looking materials that are fabricated to meet your specific lifestyle and dental needs.
We begin the procedure by taking impressions of your teeth and bite, which will be used to create a model of your mouth and aid in the making of your dentures. Our trusted dental lab handcrafts each set of custom dentures that will improve your ability to chew and allow you to speak and smile with confidence.
Once the dentures are completed and fitted, we will make any necessary adjustments to guarantee an optimal fit and comfort.
Implant Dentures
Implant dentures are an ideal tooth replacement option for patients who are missing all of their teeth, especially if you do not want traditional dentures or are unhappy with the ones that you have.
Made from titanium, dental implants are posts that are surgically placed into the jawbone, replacing the root of the missing tooth or teeth. Specially made dentures are crafted to attach to the implants, providing a secure, yet comfortable fit.
Unlike a traditional dental implant, which is used to replace a single missing tooth, implant dentures rely on a series of implants that are placed at strategic locations in the mouth, providing stability for a denture to securely snap into place.
Implant dentures will not slip or shift, which often makes for a more natural feel and greater comfort. Plus, there is no more need for denture adhesives!
What Can You Expect from Our Dentures?
Our dentists, Drs. Max and Ariana Ebrahimian, also have training and expertise in neuromuscular dentistry. That means that we construct all our dentures following neuromuscular dimensions; your denture will maintain, or in many cases improve, the alignment of your bite.
We also take into account the height and width of your smile and your facial shape as well as the color, texture, and position of any remaining healthy teeth to ensure that you receive the most comfortable and natural-looking results.
Dentures that are designed using a neuromuscular philosophy has several benefits:
Your dentures will have an ideal fit in your mouth, with less chance of slipping or shifting for greater stability.
Less stress will be exerted on the musculature of your face and mouth.
There will be more support for your facial structure, preventing the "sunken-in" appearance that often occurs with patients who live with long-term tooth loss.
Dentures have a rejuvenating effect on your appearance and your chewing and speaking capabilities. In fact, many patients who receive either our custom dentures or implant dentures say they look younger after adjusting to their new dentures.
Restore Your Youthful Smile with Dentures!
Living with lost teeth hinders your nutrition, affects your self-esteem, and has a negative impact on your overall quality of life. You don't have to continue to live this way. To explore your tooth replacement options, contact Ebrahimian Integrative Dentistry by calling (831) 438-4411 to schedule an appointment.
Ebrahimian Integrative Dentistry serves patients located in the California communities of Los Gatos, Santa Cruz, and Scotts Valley.