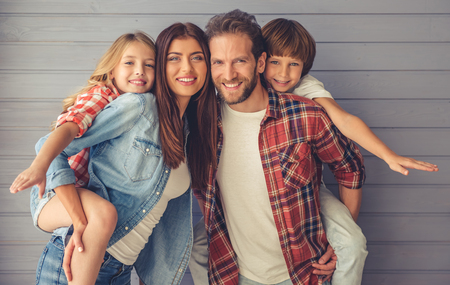 A family dentist can be a convenient way to ensure your entire family receives quality dental care from a dentist that you trust. At Ebrahimian Integrative Dentistry, we offer family dental care for patients of all ages, from infancy to the elderly years.
Why Choose a Family Dentist?
Life is hectic enough, why complicate it more by running all over town to various dental appointments? When you choose Ebrahimian Integrative Dentistry as your family dentist, you can rest at ease knowing that everyone in your family will receive the same quality dental care as you do.
We offer the following services to take care of your family's dental needs:
Dental cleanings, exams, and (digital x-rays).
Dental fillings.
Sealants.
Fluoride treatments.
Crowns.
Root canals.
Tooth extractions.
Dental emergencies.
Night guards.
Sports guards.
Sedation dentistry.
TMJ evaluation and treatment.
Sleep apnea evaluation and treatment for Sleep Disordered Breathing.
Orthodontic Therapy.
Smile Designs.
Full Mouth Rejuvenation.
And more!
These services can keep your entire family's smiles healthy and sparkling!
Can the Dentist See My Kids Too?
Absolutely! Our dentists are knowledgeable and skilled in treating children. We understand children can often have fears of going to the dentist, which is why we focus on creating a relaxing environment for your child. We even offer laughing gas as a way to help calm and relax your child during his or her appointment.
In addition to preventive care for your young children, we can also improve their oral and overall health through a variety of remarkable orthodontic options. These options can correct alignment issues, poor habits, and jaw position early in their development in order to prevent more serious concerns in the future.
If you would like to know more about how pediatric orthodontic care can protect those developing smiles, you can read more on our orthodontic page.
We Value Kids!
At Ebrahimian Integrative Dentistry, we value your child's oral health.
We support the American Academy of Pediatric Dentistry's recommendation that children should begin visiting the dentist for checkups as early as six months of age or when the first tooth erupts. Starting these visits early on will help your child establish oral habits that support a life-long journey of good oral health.
Good oral health now can build a foundation for a lifetime of smiles!
Excellent Dentistry for the Whole Family at Ebrahimian Integrative Dentistry!
To schedule an appointment, contact Ebrahimian Integrative Dentistry today at (831) 438-4411. We welcome patients of Los Gatos, Santa Cruz, and Scotts Valley, California!