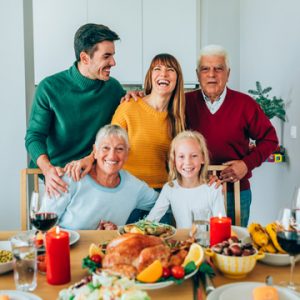 SCOTTS VALLEY, SANTA CRUZ CA
As Thanksgiving approaches each year, it urges people to think about things for which they are grateful. Among the many things you may add to the list, your smile should be close to the top. Healthy teeth and gums not only provide positive oral health but offer additional overall health benefits as well. As your mouth enjoys the flavors of the holiday season, think about these top four reasons to be thankful for your smile shared by our family dentists near Scotts Valley at Ebrahimian Integrative Dentistry.
Your Healthy Mouth Increases Your Overall Health
When you proactively care for your teeth and gums, you can enjoy more varieties of raw vegetables, crisp fruits, crunchy nuts, and chewy protein. These crunchy snacks actually help keep your teeth clean between meals. Although you still should brush and floss daily to prevent harmful bacteria that may lead to severe health consequences such as heart disease and diabetes. Even though most harmful bacteria get removed when brushing and flossing, tartar buildup still occurs in which a professional dental cleaning is the only way to remove it. With proper oral health care, you can maintain optimum oral and overall health.
Your Teeth Help You Speak
Straight teeth help you articulate words properly. For example, try to say "thirty thankful turkeys" while avoiding touching your teeth with your tongue. It can be challenging to enunciate sounds and words when your teeth are missing, crooked, gapped, or misaligned, making for potentially awkward social situations. Therefore, we recommend visiting one of the best dentists near Scotts Valley to learn which cosmetic or restorative dental options are best suited for you if you are unhappy with your smile.
Your Straight Smile Boosts Your Confidence
Smiling is a natural response to particular stimuli in our daily lives. However, smiling can also make the difference between fear and exuding confidence. When you have straight teeth, you are more confident about yourself and your appearance. Those who have discolored, crooked, gapped, or cavity-ridden teeth may suffer from a lack of confidence and try to hide or overt attention from their smile. No matter your smile concern, the top-rated cosmetic dentists in Los Gatos at Ebrahimian Integrative Dentistry can help you improve your smile and your confidence for this holiday season and beyond.
Healthy Mouth Means Fresher Breath
A healthy mouth is a home for fresh breath. Maintaining your oral health by brushing twice daily, flossing once a day, and visiting your dentist every six months, means that your breath naturally remains fresher because odor-causing bacteria gets removed during daily prevention habits. Suppose you fail to brush, floss, or visit the dentist regularly. In that case, your mouth becomes a breeding ground for harmful bacteria that can cause cavities, gum disease, or adverse health conditions if left untreated. Fortunately, general dentists near Santa Cruz provide checkup and cleaning services in addition to advanced oral concerns such as dental crowns, dental implants, or a complete smile makeover. Through a smile design plan, you could have fresh breath and a healthier smile by Thanksgiving.
Family Dentists in Scotts Valley, Santa Cruz, and Los Gatos
Possessing a naturally beautiful smile is an excellent thing to be grateful for this holiday season. A healthy mouth is a happy mouth! However, if your smile is less than perfect and you want to be holiday-ready with a perfect smile, feel free to contact the Scotts Valley family dentists near you by calling (831) 438-4411 or request a consultation online to get started on your journey to better oral health.